Are you throwing a BBQ or backyard party this Memorial Day Weekend?
Here are some great ideas to help you decorate and wow your guests.
Many ideas are simple but the one thing that's makes parties memorable are the details. Take a little extra time to spiff up small unexpected corners of your deck and yard to get the most drama.
One thing I always suggest is if your guests offer to bring something them...LET THEM! What better way to share and try out new recipes. And it will help take some of the work off of you.
Same thing goes for decorations too!
Ask to borrow some items from your friends. This has been a staple in my years of military life when entertaining. We all borrow and loan to help each other out. Isn't that what being a good neighbor and friend is all about anyway?
I hope you are inspired by these fun decorations and food ideas.
Keep it simple and make a design and food plan. It will help things goes more smoothly!
I love the simplicity of the tricycle and flag. Did you notice the old jar and simple daisy flowers?
Red and white gingham cloth is classic for this day.
And it can be used over and over for 4th of July, western parties and kids parties too.
A GOOD party investment!
Check out this idea...hang your cutlery, napkins and plates on the railing. A great design and space saver.
Check out the tutorial on my decoupaged life.
I love this idea. Denim pockets for napkins and cutlery.
Simple color for your party.
Place around the deck or pool or how about hang them in the trees.
Who wouldn't want these chocolate covered strawberries?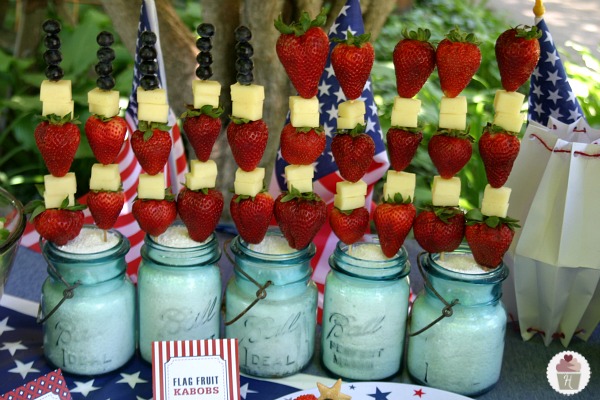 Fun and festive fruit kabobs!
_________________________________
Let me know what ideas are your favorite and some you might try!
I wish you and your family a safe and fun Memorial.
And MANY THANKS TO OUR MILITARY and their FAMILIES...
Thank you for our FREEDOM!!!
Photo Credits:
http://beyondthetable.blogspot.com
http://realmomsguide.sheknows.com
http://www.mydecoupagedlife.com/
http://hoosierhomemade.com/memorial-day-cook-out-with-printables/
http://www.naturalhomeandgarden.com
http://www.partyblog.mygrafico.com/throw-a-memorial-day-party/
http://hoosierhomemade.com/memorial-day-cook-out-with-printables/